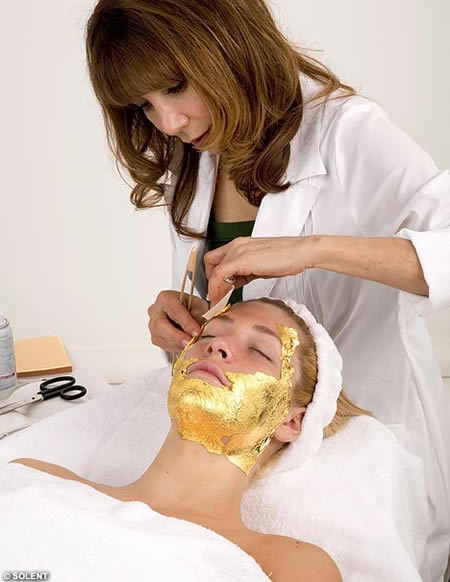 In case you thought wearing Gold jewelry is the only way to glitter and make heads turn, we give you some more news about gold to keep those eyes stuck on you. You can now improve your skin and beauty with the help of a Gold facial. Yes, the desirable metal is now ready to work wonders on your skin and make you look younger. The concept of gold facial is deemed to be based on Ayurveda and acts as a powerful anti ageing treatment. So for a sparkling smooth skin, without wrinkles, check out the Gold facial details given below.
Gold facial is available at only selected beauty clinics and saloons as it is quite costly. It is a unique treatment, which involves special methods of massage and application. The main ingredients of the facial are gold cream and gold gel. These contain 24 carat gold, aloe-vera, wheat germ oil and sandalwood. Moreover, it is available for benefiting both dry and oily skin types. Once again, Gold facial has given the researchers an opportunity to explore the medicinal properties of the multifaceted metal Gold.
The Benefits
Gold is known to be one of the softest metals, which is readily absorbed by the skin. Thus, Gold facial is primarily preferred for reducing file lines on the face and to prevent ageing. Given below are some of the benefits of Gold facial.
Penetrates the skin and has revitalizing and rejuvenating effects
Facilitates removal of toxins and wastes
Assists lymphatic drainage
Improves blood circulation
Enhances skin elasticity
Accelerates cell renewal
Reverses oxidation damage