'Prometheus' Character Peter Weyland's Viral Talk at TED2023 (Video)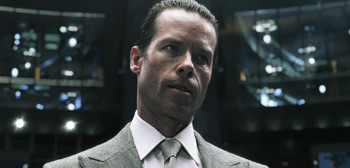 Ridley Scott revealed the link between Prometheus and Alien to be a character played by Guy Pearce. In the movie Alien, there's a company called
Weyland-Yutani
sent the Nostromo ship into space, and Pearce is playing
Peter Weyland
in
Prometheus
.
There's a new viral campaign for it as well with a new video at TED2023, which has previously featured talks from JJ Abrams. Now Pearce is channeling Weyland and talking about changing the world and making the future through his company Weyland industries. Hit the jump to watch it.
The page on the official TED blog describes Peter Weyland (Pearce) like this:
Peter Weyland has been a magnet for controversy since he announced his intent to build the first convincingly humanoid robotic system by the end of the decade. Whether challenging the ethical boundaries of medicine with nanotechnology or going toe to toe with the Vatican itself on the issue of gene-therapy sterilization, Sir Peter prides himself on his motto, "If we can, we must." After a three year media blackout, Weyland has finally emerged to reveal where he's heading next. Wherever that may be, we will most certainly want to follow.