3rd Gen Toyota Prius Launches At RM139,900 to RM145,500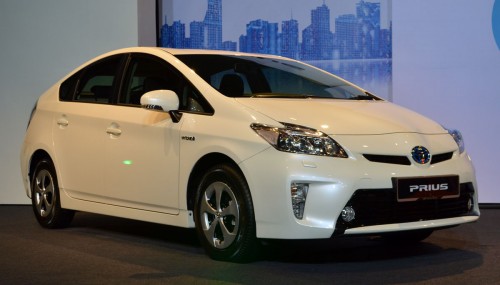 Hybrid fans can rejoice. The Toyota Prius c launch was accompanied by a third gen Prius. That means, upgrade and facelifted. As far as the new introduction of the 3rd gen Prius goes, there's no mechanical changes. It continues with the Hybrid Synergy Drive system with a 1.8 litre ZZR-FXE Atkinson cycle engine which gives it a beastly hp of 99PS and 142NM and a 82 PS/207 Nm electric motor raking it up to a combined 136 PS
There's not much cosmetic changes to the Prius either, but there's a small difference in a restyled lower grilled to improve air intake, pedestrian protection, repositioned fog lamps, LED daytime running lights, rear lights. The interior comes with a few changes, such as the front armrest and cupholders which have been redesigned.
There's a new head unit with a 6.1 inch touch screen display with Bluetooth/USB connection and a reverse camera too. JBL powers the audio system and like before, keyless entry and start, cruise control and touch tracer still remain.
The Prius is priced at RM139,900 OTR with insurance, while the Prius Luxury is RM145,500, lower than pre launch estimates.